會員預購 2014 澳洲 Perth Mint 銀幣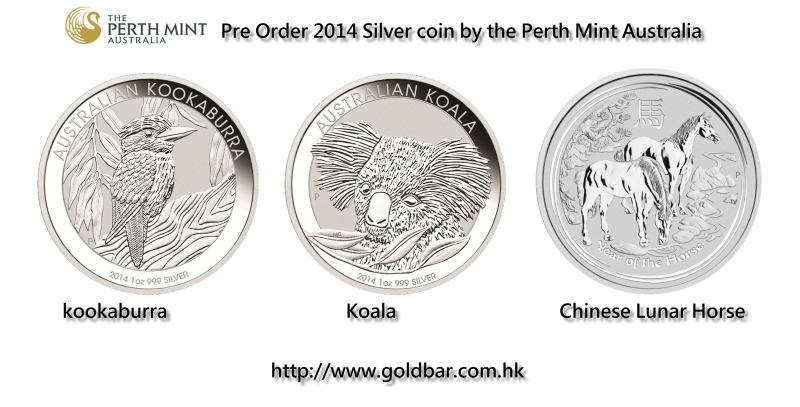 2014 年澳洲Perth Mint 中國馬年銀幣 5 OZ

2014 Chinese Lunar Horse silver bullion 5 oz coin by the Perth Mint Australia.




Recognized world wide

Denomination (Face Value) $ 8.00

% Purity / Finess 99.9 (Guaranteed by Government)

Gross weght in grams (g) 155.67 (5 Troy Ounce)

Legal tender status under the Australian Currency Act 1965

2014 年

澳洲

Perth Mint 中國

馬年銀幣 10 OZ







2014 Chinese Lunar Horse silver bullion 10 oz coin by the Perth Mint Australia.

Recognized world wide

Denomination (Face Value) $ 10

% Purity / Finess 99.9 (Guaranteed by Government)

Gross weght in grams (g) 313.50 (10 Troy Ounce)

Legal tender status under the Australian Currency Act 1965

2014 年

澳洲

Perth Mint 中國

馬年銀幣 1/2 OZ







2014 Chinese Lunar Horse silver bullion 1/2oz coin by the Perth Mint Australia.

Recognized world wide

Denomination (Face Value) $ 0.5

% Purity / Finess 99.9 (Guaranteed by Government)

Gross weght in grams (g) 15.591 (1/2 Troy Ounce)

Legal tender status under the Australian Currency Act 1965
---

2014 年澳洲Perth Mint 無尾熊銀幣 1OZ

2014 Koala Silver coin 1oz by the Perth Mint Australia.



The koala is one of Australia's most popular animals, accounting for the exceptional success of the Australian Koala series. The 2014 release of the Australian Koala silver coin series portrays an adult koala with a spray of gum leaves. The reverse design on each coin also includes The Perth Mint's 'P' mintmark and the monetary denomination.
---
2014 年澳洲Perth Mint 笑翠鳥銀幣 1 OZ

2014 kookaburra Silver coin 1oz by the Perth Mint Australia.

A laughing kookaburra, the largest member of the kingfisher species, is synonymous with the Australian bush. In 2014, the famous Perth Mint Silver Kookaburra design features a kookaburra sitting on a tree branch surrounded by gum leaves
取貨期為 2013年10月中